Music in the Time of Tallis
This past weekend One Equall Musick presented a concert that traced the development of English Choral Music between 1530 and 1580. It was a great opportunity to work through some of the repertoire that often gets overlooked because it lies in between the two pillars of 'Tudor' church music - Eton and Byrd. It's also the period of Thomas Tallis, so it made for a good musical adventure. The concert went quite well; we were pleased, and so was the audience from what we can gather - which is the best outcome. I did up the notes - we used a shorter version, but here's the full draft, for the record.
Music in the Time of Tallis
The Transformation of English Choral Music, c.1530-c.1580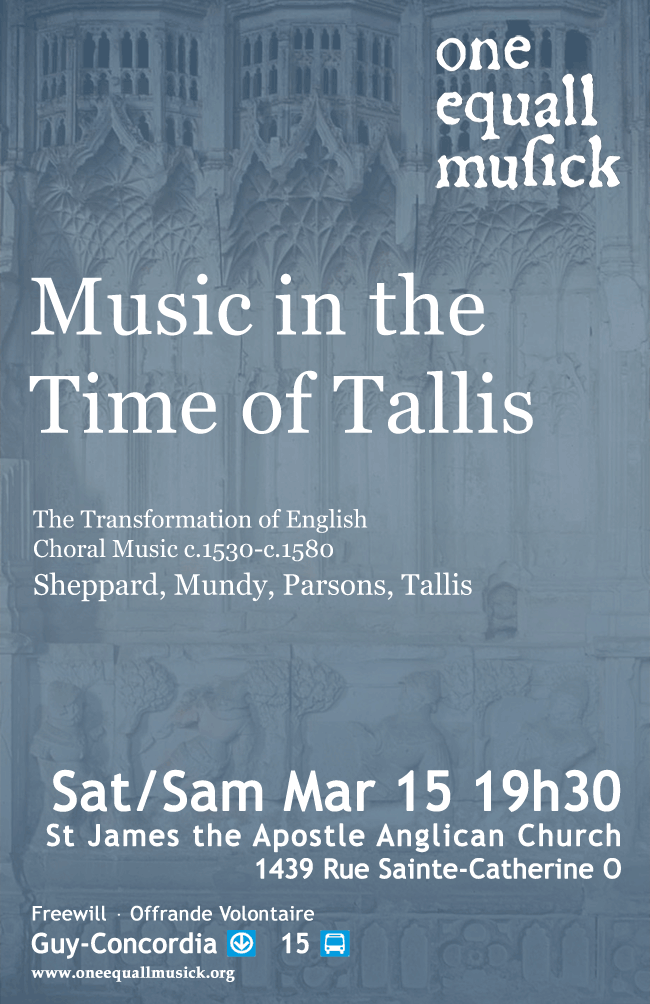 There's little doubt that the sixteenth century was a crucible for all things English. The era has fascinated scholars and audiences alike for generations as an age of politics, discovery, religious and cultural upheaval. But Tudor England, for all of its tumult, is most esteemed for its literature and music, which accompanied all of these upsets. Indeed the age is so iconic most recently we've witnessed TV shows regaling the exploits of the Tudor court.
When audiences think of Tudor Music, it's often late Elizabethan they think of - William Byrd readily springs to mind, as do John Dowland and John Bull. Byrd partnered early on with that colossus of Tudor Music, Thomas Tallis, whose works spanned mid-century, and much of the tumult of the 1530s through 1580s. Yet Tallis was born into a different age, one where England was a small second rate power on the edge of the continent, happily a faithful adherent to the Christianity centered on Rome. While Byrd was likely a crypto-catholic, the England of his era was proudly Protestant, resolved against the anti-Christ of Rome and fully engaged in exploration of the new world (and taking on its nemesis, ultracatholic Spain of Philip II). Different worlds indeed; and the music reflects these distinctions.
Tallis's life spanned the decades which saw England disavow it's allegiance to Rome, create a Catholicism that was catholic, but not "Roman", become ardently protestant under a boy-king who thought himself an ancient Israelite, swing back to a reforming Catholicism under Henry VIII's cast off daughter whom history has given the epithet Bloody, and end up with a Virgin Queen whose version of Protestantism didn't sit well with many reformers. Tallis lived through it all, writing choral music to suit the needs of the moment, oscillating between the florid styles of his early contemporaries exemplified in the Eton Choirbook volumes, to English counterfeited pieces, to meeting the practical everyday needs of congregations in his later psalmody. He was, as the famous Tudor film title, a man for all seasons.
Tallis, however, for all his importance, was only one of many composers active between the 1530s and 1580s. He was part of a vibrant community of singers and composers who occupied positions as singing men, organists, and chapel scholars or vicars in English cathedrals, collegiate and wealthy parish churches, and aristocratic households, including the chapel royal. For all of the upheaval, these men were paid to sing and write music for worship. Despite the challenges of switching from Latin worship to English and back again, and then back to English again, and dealing with assaults on choir finances, these men had to produce and offer music on a regular basis for their communities.
The years between 1530 and 1580 were, consequently, ones of forced experimentation as English singing men and composers faced changing realities of worship. Whether choral music was even proper, was a matter of debate. The scriptural religion of evangelical reformers had sought the smashing of images and stripping of altars, if they could they likely would have done the same to choirs. The Reformed church of Zurich didn't like music very much at all. It was only with the explicit protection of Elizabeth that the choirs, which survived the iconoclastic ravages and financial predations of the 1530s and 1540s into the 1560s, and their music were retained. But this didn't mean they performed the same music. On the contrary, of the some 200 pre-reformation choirs, those which survived had to adapt their styles and forms to the new liturgy and its vernacular language. Moreover, one of the great aims of the reformation in general was congregational participation in worship, and music played no small part in achieving this end. Monastic chants and votive antiphons gave way to new tunes for psalm singing. The 1560s would see some 6000 men and women singing psalms outside Paul's Cross, easily dwarfing the musical culture of singing men in well-to-do chapels, parishes, and cathedrals.
And so while we can talk of how we get from the florid votive antiphons of the Eton Choirbook to the intimate masses for private recusant worship of William Byrd, the third factor in the mix is congregational music and its expectations. English composers like John Sheppard, Robert Parsons, William Mundy, as well as Thomas Tallis, had to wrestle with making music understandable, often more simplified and homophonic, and suitable for congregational worship. Music was also meant to convert or persuade English church goers to whatever side of the religious divide it sat on. Early psalm singing was a crucial element in spreading protestant reforms, while funding florid polyphony was a hallmark of Catholicism. But as much as music was meant to convert its hearers, composers were faced with the practical need to convert musical forms themselves, altering styles of counterpoint and text underlay, finding ways to express new religious ideas while drawing on their experiences of the past.
Perhaps the most curious age of this experimentation was the reign of Edward VI, from which have the Wanley (Bodleian Library Mus. Sch. e. 420-422) and Lumley (BL Roy.App.74-6) Partbooks. These contain the earliest examples of English liturgical music as composers like Sheppard and Tallis took what they knew of English choral music and developed a new protestant polyphony. Though the partbooks contain important gems like Tallis's If Ye Love Me, most of the pieces remain little known. Both collections a predominantly service music, though many of the works could easily serve private devotional purposes. Lumley's pieces are almost all homophonic and avowedly protestant in character. So unsettled was the question of translation that not only were there no established versions of the psalms, in the case of Lumley, even Amen was translated as "so be it"! In contrast, Wanley's pieces are almost all some form of polyphony. We have a sense of the dating of the collect as most texts are pre-1549; only one is from 1552. These were key years, each seeing a version of the English Book of Common Prayer. Some are counterfeited Latin works like John Taverner's Mater Christi Sanctissima which appears as O God be Merciful. Stylistically many of the works are first-species counterpoint, or at the very least polyphonically much simpler than works that exemplified the repertoire of English choirs in the 1510s and 1520s. Weaving throughout the Wanley collection is a series of some 30 pieces for four-part men's voices. The books were likely compiled for a parish choir between 1548 and 1552, giving evidence of the realities of a small choral community inside the metropole where music was composed, but also where works by composers like Tallis clearly were known. The Wanley and Lumley pieces form part of our concert tonight, among them Sheppard's I give you a new commandment.
The partbook pieces interweave with works that represent the votive antiphon tradition of pre-reformation England, and the reign of Mary I - Sheppard's Libera Nos, and William Mundy's little-known masterpiece, Vox Patris Caelestis. Votive antiphons were in many ways the vocal equivalents of large devotional statues or works of visual art. They required skilled singers, and thus were ways in which religious communities expressed their piety outside of liturgy itself. In many cases these works were sung at tombs or in front of images: they were, literally, aural and musical offerings. Not surprisingly they were moments where both choirs and composers showed off their stuff. They were highly florid, often rhythmically complex, and could require numerous voices - all of which not only displayed vocal richness, but in funding it, the wealthy and piety of a community.
What makes Mundy's Vox Patris special is its date of composition: the reign of Mary I, after the ardent Protestantism of Edward VI's reign. Whether it was composed for the celebration of the Feast of the Assumption (15 August) at St Mary-at-Hill, a wealthy and prominent London parish with a strong choral tradition where Mundy was employed between 1556 and 1558, or for Mary's coronation at the end of September 1553, is a subject of debate. That the piece stands as the last great exemplar of the English votive antiphon, is not. Little did England know that their then Queen would die in 1558, bringing about a return of a slightly tempered Protestantism that had little place for long antiphonal choral works in an antiquated style. The text itself, written by William Forrest, who was associated with Henry VIII's court and wrote works of advice for both Edward VI and Mary, interpolates the Song of Songs with Marian themes. Split into three major sections, each subdivided further into two verse and one choral sections, the Mundy moves from intimate descriptions of celebrating the Virgin's worldly beauty to the ecstatic crowning of Mary in heaven, and the nature of spiritual love. And the music follows; verses are conversational, while larger choral sections cap off the rhetorical emphases of the text. The last choral section contains ever increasing scales, passed off between overlapping parts denoting spiritual ascent.
Robert Parsons's Deliver Me dates to the mid-Tudor period, as does his Domine quis Habitabit. It's unclear whether Deliver Me belongs to the early 1550s or 1560s; musicologically it shares much with works that pepper the Wanley Partbooks - simple counterpoint. Equally, the Domine quis Habitabit offers a style that has echoes of the continent, and Byrd - it's hard to see it as anything earlier than Mary's reign. Importantly, as we know from the works of Byrd, and in considering the existence of a Latin prayerbook for Oxbridge colleges, the use of Latin was not prohibited in English churches, and definitely not devotionally. But it's clear that Parsons's works fit neatly into the experimental phase.
One of the fascinating stylistic patterns which emerge in this music are the clear duets and trios, and parallel figures within the larger choral textures. The result are pieces where imitation is not only iterative, but creates tiers and polyphonic densities that emphasize key textual moments with sweeping tides of sound. Parsons does this in his Deliver Me at 'O be thou our help', a text that foreshadows Isaac Watts setting of Psalm 90 a century and a half late and a tune which are well-known to English choirs. But Mundy does it also, in the third section of Vox Patris, on 'amatoris' indicating the ravishingness of earthly love. And so it's not just imitation, it's parallel chordal structures that sweep through the textures themselves moving from a single motif offered by one voice which is eventually by sections of the entire choir en masse after making its imitative round.
We've included Tallis's well-known Miserere Nostri, which appeared in the first edition of the Cantiones Sacrae in 1575. Known for its canonical structure, it was undoubtedly composed, the other Latin works in the collection, for catholic private devotion. But the fact it appears in the first great publication of English choral music in Elizabeth's reign also speaks volumes to the shifting nature of choral music over the course of the century. Part of the reason we lack repertoire from the period, and clear dating of works is because English choirs and singers likely viewed compositions as something to offer several times, but not necessarily retain in the same kind of way we've come to keep and document musical works. Yes, pieces were copied, but the concern - as with preaching - was not that the message would be different, but that its presentation would always come 'anew' to the ear. The publication of Miserere Nostri, and even Mundy's Vox Patris which was conservative for its day, point towards one of the effects of the reformation - historical distance and memory within English culture. The rise of musical printing combined with imitating past styles offered a means for both a kind of nostalgia for what many held as irreparably lost: pre-Reformation piety, as much as the private devotional needs of hidden catholics. Singing such songs was in many ways not unlike the singing of psalms in Babylon. And so while English choral composition trudged on providing works for English services, English composers also engaged in certain amount of retrospection, as much as provision, in the later decades of the sixteenth-century. Something similar happened with John Foxe's Acts and Monuments, and the rise of the history play, like Shakespeare's Henry V. History and remembering, and their relation to the present religious trouvles, were part of converting the past into something new - a complex and multi-layered English cultural identity.
Preceding Tallis's Miserere Nostri we've set a psalm out of his psalter for Archbishop Matthew Parker - in the protestant reckoning it's psalm 130; in catholic contexts, psalm 129 - Out of the Deep. If Miserere Nostri was printed in 1575 as a kind of retrospective using older forms as much as for private devotional use, Archbishop Parker's Psalter printed in 1567 was the exact opposite; a functional text meant for the practical needs of the new religion. Here's a psalm tune meant to be sung by a congregation. How psalmody interwove throughout English choral music is an entire subject in its own right. We've taken psalm 129/130 and placed four versions throughout the repertoire, moving from a tract, to a setting found in the Lumley Partbooks, to plainsong, to Tallis's setting. It's the same text, yet each offers a very different approach to psalm singing, and profoundly different aesthetics. And the disparate English translations also illustrate how composers and translators wrestled with making the new religious vernacular singable.
Lastly, a note about the order - it's important. While we can't say with any certainty when each of our pieces this evening were composed, we've tried to place them in a rough chronological order moving from music that was definitely around during the last decade or so of Henry VIII (c.1530-1547/8), through that of Edward VI (1547/8-1553), Mary I (1553-1558), and the first two decades of Elizabeth I's (1558-c.1580) reigns. It might seem that we're juxtaposing different forms to provide some variation by moving between English and Latin works: we're not. This is how far and wide English music oscillated in these years. If there's debate about whether Mundy's Vox Patris Caelestis was performed in August 1558 at St Mary-at-Hill's patronal feast of the Assumption of the Virgin, there's little doubt that metrical psalms in the style set by Tallis in 1567 rang out in London a few months later at Elizabeth I's accession in November that year. Three months, but musical worlds apart - we might well wonder what musical iconoclasm sounds like. Perhaps this is it. But rather than smashing, we might better understand the period between 1530 and 1580 as it really was - a moment of experimentation and transformation of English choral music.
back